Acne Facial Mask Recipes
The acne facial mask recipes below are for the treatment of acne, pimples, and overall oily skin. For those interested in trying an easy natural facial for acne, some of the recipes below may help.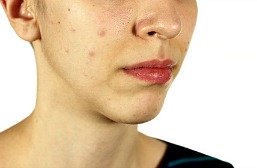 Very Simple Apple and Honey Natural Acne Mask
A mask of grated apple mixed with a little honey is an excellent remedy for pimples and a real basic facial mask.
Natural Acne Facial with Honey
This is another basic facial mask which takes advantage of the benefits of honey. Massage a small amount of slightly heated honey into skin. Wheat germ may be added for its abrasive action, protein, and nutrients.

Tomato and Oatmeal Acne Facial Mask
1 chopped ripe tomato
1 teaspoon of lemon juice
1 tablespoon of instant style oatmeal or old fashioned rolled oats
Blend the ingredients together lightly, just until they are mixed. Apply the mixture to the skin, making sure the mixture is thick enough to stay on the blemished areas. If necessary, add a little more oatmeal to thicken the mask. Leave on for 15 minutes. Lightly scrub off the facial mixture with a washcloth dipped in warm water.
Plum Mask for Blemished Skin

6 plums
1 teaspoon of almond oil
Boil the plums and then let them cool. Mash the plums with a fork and mix in the almond oil. Apply to the face, wait 5 to 10 minutes, and then rinse off.
Honey and Wheat Germ Mask

2 tablespoons of honey
2 tablespoons of untoasted wheat germ
Warm the honey slightly over low heat and then add the untoasted wheat germ. Mix thoroughly. Apply to the face and rub gently over blackheads or other blemished areas for three to four minutes. After the initial rubbing, leave the mixture on the face for 15 to 20 minutes. Rinse with fairly hot water. Use this facial mask procedure for a week or ten days or less frequently if the skin improves rapidly.
Would you like to share your experience battling acne? Do you have a best acne treatment to recommend? If you would like to share your acne skin care story, please visit acne skin care.

Healthy-skincare.com offers the acne help ebook that provides valuable acne information and offers treatment information including natural remedies. Click on this acne help ebook link for more information.
Additional homemade facial mask recipes can be found at the pages below:
eggs | fruits | honey | mud | oatmeal | vegetables | acne facial | anti aging | oily skin | dry skin | natural skin care
Visit this
PICTURES OF RASHES PAGE