Anti Aging Moisturizer
An anti aging moisturizer is the third and last step in the Skindulgence 30 minute non surgical face lift system. After proper skin cleansing and application of the anti aging facial masque, the moisturizer is used.

What the Moisturizer Does
The use of the Skindulgence moisturizer is a very important last step. It will hydrate the skin and leave it silky smooth, soft and supple.

How to Use the Moisturizer
The use of the moisturizer is easy. Simply apply the anti aging lotion generously to the face and neck after the facial masque has been rinsed off.
What Makes the Skindulgence Moisturizer So Special
The moisturizer product is unique and contains a special combination of natural botanicals and emolients. Some of the ingredients are:
Purified Water
Aloe Vera Gel
Jojoba Oil
Hops (Humulus lupulus) Extract
Rosemary (Rosemarinus officinalis) Extract
Horsetail (Equisetum arvense) Extract
Pine Cone (Pinus sylvestris) Extract
Lemon (Citrus medica Limonum) Extract
Borage (Borago officinalis) Extract
Spirulina maxima Extract
Comfrey (Symphytum officinale) Extract
Plantain (Plantago ovata) Extract
Hydrolyzed Wheat Protein
Tocopheryl Acetate (Vitamin E)
Retinal Palmitate (Vitamin A)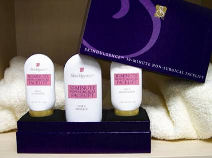 Experience this quality moisturizer as part of the Skindulgence anti aging facial product.

non surgical face lift | skindulgence | skindulgence skin care | best anti aging products | face lift without surgery | anti aging product |  fine lines and wrinkles | face wrinkles | anti aging cleanser | anti aging moisturizer | facial wrinkling

Visit this
PICTURES OF RASHES PAGE