Anti Aging Cleanser 
The Skindulgence face lift system contains an anti aging cleanser, an anti aging facial masque, and an anti aging moisturizer. All three of these components act together to produce striking results.
About the Cleanser

The cleanser is the first step in the Skindulgence 30 minute non surgical face lift system. This specially formulated cleanser product is designed to deeply and thoroughly clean your facial skin. Proper cleansing is an important aspect in healthy skin care and an important aspect in anti aging skin care. The cleanser is also important because it prepares the face for the tightening facial masque which is the second component of the Skindulgence system.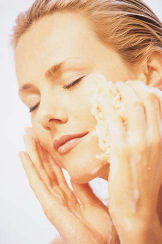 A Unique and Special Anti Aging Cleanser
The Skindulgence cleanser is specially formulated to work in synergy with the facial masque and the anti aging moisturizer product. Therefore, it is not just an ordinary cleanser and should not be substitued with another product.
What are some of the Special Cleanser Ingredients

There are several key and exotic ingredients in the Skindulgence cleanser formulation for anti-aging. This herbal blend provides maximum results when it comes to proper skin cleansing. Some of the ingredients are:
Purified Water
Aloe Vera Gel
Jojoba Oil
Hops (Humulus lupulus) Extract
Rosemary (Rosemarinus officinalis) Extract
Horsetail (Equisetum arvense) Extract
Pine Cone (Pinus sylvestris) Extract
Lemon (Citrus medica Limonum) Extract
Borage (Borago officinalis) Extract
Spirulina maxima Extract
Ginkgo Biloba Extract
Tocopheryl Acetate (Vitamin E)
Retinal Palmitate (Vitamin A)
By using all three products, the maximum benefits that the Skindulgence 30 minute non surgical face lift system can provide is achieved.

non surgical face lift | skindulgence | skindulgence skin care | face lift without surgery | anti aging moisturizer | facial wrinkling
Visit this
PICTURES OF RASHES PAGE