Diaper Rash
A diaper rash is a skin condition that is common in babies. It is also a skin problem that may affect adults (usually but not always the elderly) that have to wear a diaper due to bladder control problems or incontinence. Anyone that has to wear a diaper will likely develop this rash at some point during the diaper wearing period.
This type of skin rash can be quite uncomfortable and painful, but fortunately is not dangerous and with proper treatment no complications will occur. However, vigilance is still required because without proper treatment a skin infection can develop. This is usually caused by yeast or bacteria that are residing on the skin.

Diaper Rash Symptoms
A diaper skin rash is essentially contact dermatitis (sometimes it is called diaper dermatitis) or a skin irritation or inflammation and is generally characterized by the appearance of bright red skin in the groin or buttock region of the affected individual. Basically, the nappy rash can occur anywhere in the skin region that is covered by a diaper. More nappy rash symptom details can be found at the symptoms page.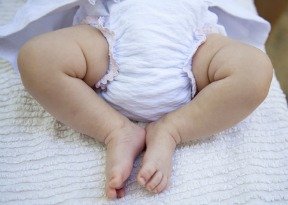 Causes

The causes of a diaper skin rash can be found at this diaper skin rash page. Note that a diaper skin rash is not a sign of a yeast infection or allergy to food.
Diaper or Nappy Rash Treatments

There are several effective treatments or remedies that can be used to alleviate this type of rash. Many of these treatments are quite simple to use and do not require a prescription. Many diaper skin rash home remedies exist as well and have been used effectively for many years.
Of course, like many other skin rashes or skin conditions, effective prevention techniques can be used to stop a diaper rash from forming or preventing it from reoccurring often.
Visit this
PICTURES OF RASHES PAGE