Soap Recipes
Healthy-skincare.com offers an ebook, which contains hundreds of homemade soap recipes. These recipes are very popular with individuals interested in healthy skin care because you can produce natural soaps that are customized to your skin type, skin condition or skin problem, or simply to make a soap that suites your own personal preferences.
With over 500 recipes to make your own soap, you can definitely find a recipe for you. Avoid the use of store bought soaps that contain cheap perfume or harsh artificial ingredients. Making your own soap allows you to select which ingredients go into your soap. For those with sensitive skin, these natural recipes are ideal because you can avoid the ingredients that trigger a skin rash or other skin reaction.
This extensive skin care soap ebook contains: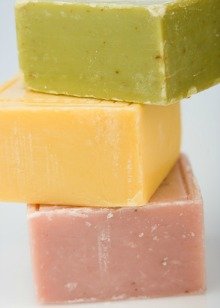 numerous recipes to make your own soap containing key skin care ingredients such as honey, olive oil, aloe vera, jojoba oil, lavender, green tea, etc.
natural bath salts recipes for all your skin care and health needs
many shampoo recipes, for those who prefer to make their own hair cleansing product
a variety of bubble bath recipes
soothing bath oil recipes
gentle shower gel recipes for your proper skin care
several all-natural facial scrub recipes
hand cream recipes containing natural beeswax, coconut oil, honey, and more
recipes for your own suntan lotion
instructions on how to make various cleansing creams, lotions, and moisturizers without unnecessary ingredients
facial mask recipes for your skin care problems
and more.

This ebook of over 500 recipes for soap and other skin care product recipes is available for purchase by clicking on the Paypal link below for only $4.99 US funds.
Other soap recipes using a variety of ingredients can be found at the pages listed below:
homemade soaps | handmade soaps | milk | beeswax | coconut oil | chocolate | herbs 
Visit this
PICTURES OF RASHES PAGE