Free Tattoo Art
Find a variety of free tattoo art on this page of the healthy-skincare.com website. There are a very wide variety of choices when deciding which drawings of tattoos are best for you. Tattoo sketches are endless and themes vary considerably. From Chinese symbols and dragons to stars and shooting stars. There are many different varieties of butterfly and angel tattoo designs. Tattoo sketches of zodiac signs, tribal tattoos, and tattoo of crosses also come in a wide variety of styles and are quite popular. There are even tattoo designs for the feet and much more.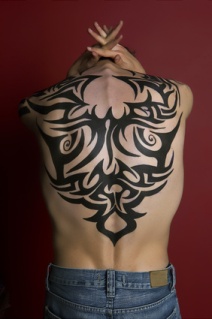 The trend for those getting a tattoo nowadays is to design your own tattoo. Everyone wants something unique and something that has personal meaning, two factors which generally cannot be satisfied with the standard designs found in many tattoo parlours. The preference for the design may be based simply on look or as previously mentioned, the tattoo may hold some deep significance for the individual.
This page allows visitors to post their unique tattoo drawings so that others can either use these drawings, alter these drawings in order to suite themselves, or be inspired to come up with their own personal ideas. Often people have an idea but cannot put in on paper and hopefully other people's tattoo ideas can get the creative juices flowing. In some cases the contributors, in addition to posting pictures of their tattoo designs, also discuss their tattoo drawings, giving you insight on the design. Please see below for links to free art tattoo and for information on how to post your own free drawings of tattoos along with any information about the tattoo sketch that you would like to share.
Share Your Tattoo Design or Tattoo Story
Do you have a tattooing experience either good or bad that you would like to share with others that may be considering getting tattoo.

Are you proud of some tattoo art that you have designed and would like to share it with others?

This is your opportunity to help others with their tattooing decision or their tattoo design selection.


Tattoo Ideas and Tattoo Stories From Other Visitors
Click below to see contributions from other visitors to this page...

Alabama Crimson Tide with Elephant Tattoo
A College Football team Logo tattoo. I think this design is really cool and I just wanted to share it on this tattoo design webpage. If anyone else has …
Savage 4 Life
Just like drawing Tattoos patterns. Therefore, I submitted this design. If you have any comments on this design, good or bad, I would love to read them. …
skin care | laser tattoo removal | tattoo removal | tattoo lettering |  tattoo designs | chopper tattoo | tattoo skin care | tattoo art

Visit this
PICTURES OF RASHES PAGE