Gallery of Dragon Tattoo
Below is a free gallery of dragon tattoo.
Tattoos of dragons are very popular for a number of reasons. First of all, there are numerous dragon designs that are available and these tattoo designs are very intricate and very colorful. Getting a dragon tattoo often requires quite a bite of time and can be expensive depending on the size and of course how much detail is involved.
Popularity of the dragon tattoo is often linked with the meaning or representation of the dragon in Oriental culture. First of all, the dragon is one of the animals in the Chinese calender or one of the animals of the Chinese Zodiac. There are a total of twelve animals: rat, rabbit, snake, horse, dragon, ox, pig, dog, rooster, goat, tiger, and monkey. The dragon is assigned to those born in 1904 and every twelve years after that. This is a popular reason why individuals get a dragon tattoo.
In Oriental culture, a dragon represents many things. A dragon often possesses magical abilities. A dragon is often portrayed as having wisdom and being a powerful creature. Dragons are also often associated with royalty.
Unfortunately, dragons can also have a negative meaning as dragons can be portrayed as savage beasts that often wreaks havoc.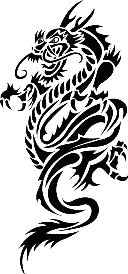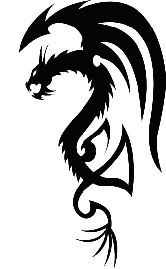 TATTOO DESIGNS eBOOK – More dragon tattoo designs as well as other tattoo designs – floral tattoos, angel tattoos, tribal tattoos, celtic tattoos, Chinese character tattoos, various decorative tattoos, zodiac tattoos, and butterfly tattoos. Tattoos in this book are ready to be printed out, brought to your favourite tattoo artist and tattoo parlor, and inked. Some basic but essential tattoo information is also provided.
This eBook is available for $8.99 (US).
More tattoo designs can be found at the related information pages below:
angels | butterflies | Chinese characters | crosses | gallery of dragon tattoo | shooting stars | tribal lion
Visit this
PICTURES OF RASHES PAGE