Gemini Tattoos
Gemini tattoos, capricorn tattoos, other zodiac tattoos, as well as plenty of essential tattoo information can all be found in two books that are available from healthy-skincare.com. See the bottom of the page for more information on these tattoo eBooks.
The astrological sign of Gemini (or the symbol of twins) is assigned to individuals born between May 21 and June 20. Gemini traits include being an extrovert and outwardly expressive. Gemini individuals are highly compatible with Libra and Aquarius signs and poorly compatible with Cancer, Capricorn, Virgo, Taurus, Scorpio, and Pisces.
The Gemini tattoo below, which is shown with some other astrological tattoos, does not appear to have anything to do with twins. The interpretation of the design is as follows: quite simply the two horizontal lines and two vertical lines represent the duality concept of twins. There are various stylized versions of this tattoo and of course many different varieties of Gemini astrological tattoos that are completely different than the design shown.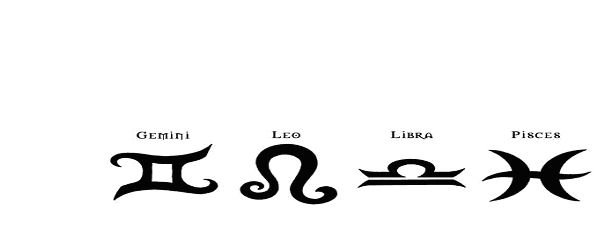 Examples of zodiac tattoo designs.

Tattoo Information
This book contains 20 chapters and focuses on the tattoo information that anyone with a tattoo or planning to get a tattoo must read. Some of the topics covered include:
Introduction – A little tattoo history to read through.
Basic Information to Know Prior to Getting a Tattoo
What to Look For in a Tattoo Artist and Tattoo Parlour
How Expensive is it to get a Tattoo
Important Tattoo Safety Information - This information is a must read in order to avoid minor and major health complications when getting a tattoo.
Tattoo and Pain - How much pain is involved when getting a tattoo.
Proper Tattoo Skin Care Tips – How to care for that new tattoo so that it turns out the way you want it to.
The Meaning of Various Tattoo Designs - Before getting a tattoo on your skin, it is a good idea to understand the meaning of various tattoo designs.
How to Possibly Remove Unwanted Tattoos - Some individuals want to remove an old tattoo before getting a new one or simply want to remove a tattoo and this chapter discusses tattoo removal techniques.
Tattoo Designs
This book contains over 150 pages of various tattoo designs. You can find designs under the following subjects:

Basic Decorative
Zodiac Signs
Celtic
Variety of Floral
Butterflies
Dragons
Angels
Tribal
and more!
TATTOO eBOOK PACKAGE – Includes both of the eBooks described above and can be purchase from healthy-skincare.com for $12.99 (US).
More Zodiac and Gemini tattoos and information can be found at the pages below:
zodiac tattoos | capricorn | gemini tattoos | pisces | taurus | virgo

Visit this
PICTURES OF RASHES PAGE