Food Allergy Rash
A food allergy rash is quite common. People with food allergies can suffer minor symptoms such as a mild skin rash or the reaction can be more severe. In more serious cases, the symptoms are much more dramatic and life threatening.
The major concern with a food allergy and a food allergy rash is when these symptoms are a sign of a more severe allergic reaction. Generally, if the reaction is mild, the only thing the individual may experience is some mild discomfort or a slight skin rash that does not produce any other symptoms.
Severe Food Allergy Rash Symptoms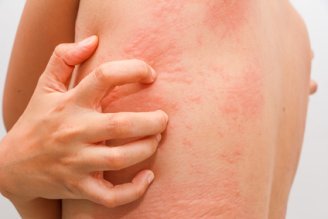 However, if the reaction is severe, there are certain characteristic symptoms to note. When coming in contact with a food allergen, the allergic symptoms can progress from mild to severe in a short amount of time. Typical symptoms of a more severe food allergy are:

an itchy and red food allergy rash or hives all over the body
a flushed face
swelling in the facial areas including the eyes, lips, tongue, and throat
stomach discomfort in the form of cramps, diarrhoea, or even vomiting
weakness, panic, and anxiety
breathing problems, inability to speak or swallow properly
rapid heart beat, drop in blood pressure, and loss of consciousness
Prevention of Allergic Rash Caused by Food
There is no cure for a allergy rash caused by food or a food allergy. Prevention is critical. This includes undergoing regular allergy tests to establish sensitivity to foods. If a food allergy has been established, then avoidance of the offending food and derivatives of the food is a must. Careful ingredient label reading and sometimes additional literature research is required. This may include contacting the manufacturer of the product to ensure the food is safe to consume.
Cross-contamination, or in other words foods that have come in contact with each other, can lead to non offending foods causing an allergic reaction. This should always be considered when eating. In all cases, when in doubt, it is best to not eat the food.
Food Allergic Reaction Treatment
If a severe food allergy has been diagnosed, then it is imperative to carry at all times an adrenaline auto injector in case of anaphylactic shock. With any sign of a severe reaction or after use of the adrenalin, a visit to the emergency room is imperative and there should be no delays in going to the hospital. The rash and other symptoms may reoccur after a short amount of time (15 to 20 minutes) even after the adrenaline injection. Sometimes, a second injection can be given if symptoms reappear. This should be discussed with your doctor. On long trips, consider carrying two injectors, in case emergency help is further than 20 minutes away.
Common Foods that Cause an Allergic Reaction
Certain foods are more likely than others to cause a skin rash and other allergic symptoms. The nine foods most likely to cause an allergic reaction in no particular order are:
milk
seafood
sesame seeds
soy
sulphites
tree nut
wheat
Share A Story About Your Battle With Skin Rashes
There are many types of skin rashes that people are affected with. If you have a story about your experience with a skin rash and feel that if would be useful to the individuals visiting this website then please feel free to share it.
What Other Visitors Have Said
Click below to see contributions from other visitors to this page...

skin care | diagnose my skin rash | strep rash | syphilis rash | lyme disease rash | lupus rash | shingles rash | chicken pox rash | hiv rash | stress rash | heat rash | scabies rash | bug bites or insect bites or stings | poison ivy rash | food allergy rash | swimming pool rash | penicillin rash | lamictal rash | nair rash | diaper rash | niacin skin rash

Visit this
PICTURES OF RASHES PAGE