Stress Rash or Hives
Visit our PICTURES OF RASHES page.

A stress rash or stress hives on the skin can develop when a person is under stress. Whether stress or anxiety has this effect on an individual depends on many factors and no two people will react the same.
Stress and especially constant daily stress affects the health of individuals in many ways. Often health problems are difficult to link directly to stress, but without a doubt, it does play a role in poor health. Heart problems, high blood pressure, mental disorders, etc. can be by-products of a lifestyle that is stress filled.

Stress Rash Affects on Skin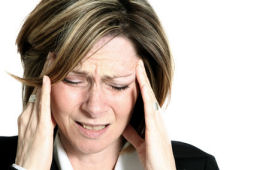 The effect of stress or anxiety on the skin is often overlooked. A rash due to stress, which appears as hives or welts on the skin, is a negative product of stress. Many people break out into a rash or stress hives when under even minor amounts of it. Often the result is the appearance of itchy hives or welts on the stomach, back, arms, and face. Why this occurs is a difficult question to answer. Some experts suspect that the problem is the effect that anxiety has on the immune system. Factors acting on the immune system cause the release of histamine and this results in vessel dilatation, itching, stress hives or rash. However, in many cases the exact cause and explanation for the anxiety rash cannot be specified.

Stress will also aggravate existing skin problems such as psoriasis, eczema, and dermatitis. Cases have been noted where skin has become more sensitive or dry because of stress or anxiety. It is believed that this is due to the skin pH balance changing because of sweating that often accompanies stressful or anxious situations. A significant factor to consider is that individuals will become even more stressed and frustrated as their skin condition worsens and this compounds the problem and a vicious circle develops.
Stress or Anxiety Rash Prevention
In order to prevent a rash from stress or stress hives on the skin and prevent the problematic cycle from developing, the best remedy is a stress management plan. Learning to deal effectively with stressful situations and practicing relaxation techniques can lead to a much calmer and healthier lifestyle and less hive out breaks. Many people turn to yoga or meditation to control anxiety. A healthy diet, regular exercise, or pursuing a pleasurable hobby are also excellent stress relievers.
More skin information on skin rashes can be found on this page.
If concerned about a skin rash, it is a good idea to visit your family physician or skin doctor. It is always prudent to ensure that the rash is only a stress rash or hives related to stress and is not caused by some underlying and potentially serious health problems. Allergy testing may be required to diagnose the skin rash problem. The doctor may prescribed medication to ease the skin rash symptoms or over the counter products can be used for less severe skin reactions.
Share Your Stress Rash Story
If you have a skin rash story that you would like to share with the readers of healthy-skincare.com, then please visit the types of skin rashes page.

Share A Story About Your Battle With Skin Rashes
There are many types of skin rashes that people are affected with. If you have a story about your experience with a skin rash and feel that if would be useful to the individuals visiting this website then please feel free to share it.
What Other Visitors Have Said
Click below to see contributions from other visitors to this page...

diagnose my skin rash | stress rash 

Visit this: Pictures of Rashes Page