Benefits of Ginger 
The benefits of ginger for health and skin care have been utilized for many centuries and the number of benefits for skin and health are wide ranging. Because of these benefits, ginger is being often used as a key ingredient in commercially available skin and health products and many homemade skin and health product recipes.

Ginger is being used in skin care products to combat cellulite and in massage oil products in order to warm, soothe and relax the skin. Ginger is also used to prevent skin aging and possibly skin cancer due to its anti-oxidant properties. Ginger can be used to restore youthful radiance to the skin, to smooth out rough skin, and as an anti-fungal product.

The ginger benefits for good overall health include the treatment of digestive problems. Examples of digestive problems where ginger can be a health benefit include indigestion, vomiting, nausea, and intestinal gas.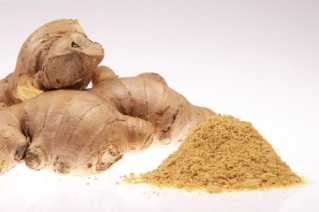 In addition, because of ginger's anti-inflammatory property, it is useful in the easing of joint pain. Ginger is also an anti-oxidant and this property helps to neutralize cell harming free radicals. Other ginger benefits for health are that it helps in promoting better blood circulation in the body because of its anticoagulant properties, it can be useful in the treatment of fever due to colds, the treatment of coughs and clearing of phlegm also due to colds, and as a painkiller to treat common headaches and toothaches.
Generally, you can use ginger for more mild health conditions. If their is concern or symptoms get worse, then a visit to the doctor is recommended and where perhaps a more aggressive treatment will be prescribed.

Benefits of Ginger for Varicose Veins
Herbal baths can help with varicose veins and spider veins in both men and women by boosting circulation in the legs. This in turn helps alleviate the pain and swelling associated with these skin care problems.

Below is an example of a natural skin care recipe that uses ginger to help with varicose veins. The ingredients required are listed below.
2 tablespoons of dried ginger powder OR 4 tablespoons of fresh ginger root that is chopped
4 tablespoons of dried juniper
2 tablespoons of dried rosemary
4 tablespoons of dried lemon peel OR one whole lemon that is quartered
In a clean water warm bath, add the ingredients listed above and soak in the bath as you normally would.
More information on skin care and the benefits of other foods such as spices, oils, and vitamins, can be found at the links below.
skin care | food for healthy skin | food for skin | vitamin d benefits | benefits of vitamin e | benefit of zinc | foods that cause acne | health benefits of flaxseed oil | benefits of acai | noni juice benefits | benefits of oatmeal | benefits of selenium | benefits of cinnamon | benefits of ginger

Visit this: Pictures of Rashes Page