Dermatographism Causes
There are several suspected dermatographism causes, but in approximately half of the cases, the exact cause cannot be diagnosed. Often this condition is referred to as being idiopathic, which simply means that it is "of unknown cause." Also, uncertain is the exact mechanism that leads to the formation of the raised skin patches or welts and other dermatographism symptoms.

The most fundamental of all causes for dermatographism is the application of friction or pressure to the skin. This is not the underlying source of the problem, but it is what triggers the appearance of the dermatographism symptoms. It is speculated that pressure or friction on the skin causes the release of inflammatory mediators.
Visit our pictures of skin rashes page for more information.
If you would like to share your story about dermatographism and help others please visit this page.
Inflammatory mediators are molecules that are released by immune cells in the body during times when harmful agents invade the body.
Histamine is the primary inflammatory mediator suspected of being released from Mast cells into the skin when dermatographism occurs. However, other chemical mediators may also be involved.
A mast cell is found in connective tissue and releases substances such as histamine in response to an injury or inflammation of bodily tissues.
The result of this process is that small blood vessels in the skin begin to leak. This leads to an accumulation of fluid in the skin tissue and a wheal or welt develops in the area and in the shape of the applied pressure or friction.
The release of histamine and other mediators of inflammation may be caused by allergens or may be a result of non-allergic factors. In many cases, urticaria or dermatographism is autoimmune. In other words, the body produces antibodies against itself and this triggers the release of the histamine. The mechanism of histamine release differs depending on the urticaria or dermatographism causes.
For website updates, feature articles on skin care and skin care problems, and more, please register to receive the monthly Healthy Skin Newsletter.
General Information About Dermatographism Causes
dermatographism has no gender preference
dermatographism has no race preference
young adults in their 20s and 30s are most vulnerable to dermatographism
most people with dermatographism are in good general health

If dermatographism affects people that are generally in good health, then what can possibly be the causes of this skin condition?
The following diagram summarizes the dermographism causes, which have been speculated as being responsible for the appearance of this skin condition.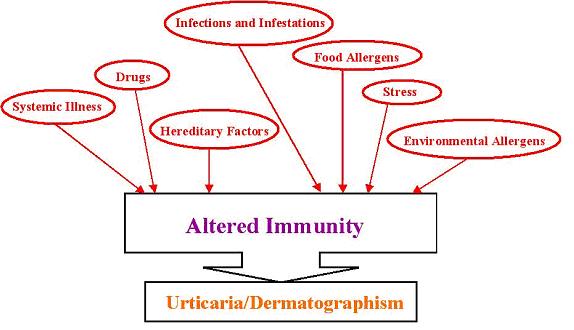 The elements shown in red act on the immune system of the body and eventually alter it. This process then leads to the development of urticaria or dermatographism. A more detailed look at the dermatographism causes is provided below.

Food Allergens
An allergy to a food is a possible urticaria or dermatographism cause. Typical foods that can lead to this skin condition are:
milk and cheese
eggs
shellfish and other fish
nuts
wheat and cereals
chicken
peas
oranges
synthetic and natural food additives such as nitrites, benzoates, sulphites, colourings, and artificial flavorings
Environmental Allergens
Certain elements in the environment are also speculated as being dermatographism causes.
house-dust
molds
pollen
change in temperature or extreme cold or heat
domestic contact with pet animals
In addition, not necessarily considered environmental allergens, but use of personal products such as deodorant, perfume, talcum powder, cosmetic products, and latex rubber can all be dermatographism causes as well.
A common allergen that is often overlooked is dryer sheets. Regular dryer sheets contain many chemicals that can affect your skin. Therefore, as a first step, dermatographism suffers should switch to hypoallergenic dryer sheets and unscented laundry detergents.
Drugs Causing Dermatographism
One of the suspected causes may be a drug such as:
antibiotics (Penicillin)
anti-inflammatory drugs such as aspirin or indomethacin
vaccinations
hormonal preparations
oral contraceptives
More information on hives from drugs can be found at this page.
Infections and Infestations
Infections and infestations may lead to the formation of dermographism. Some examples are:
insect bites such as bee or wasp stings
frequent bacterial infections such as urinary track, heliobacter pylori, dental, and sinus
viral infections such as Hepatitis A, Hepatitis B, and mononucleosis
fungal infections (candidiasis, dermatophytosis)
protozoal infection (an infection caused by protozoa – single cell creatures)
scabies
parasitic infestations such as round or tape worms
Systemic Illness
A systemic illness is one that affects the whole body, not just one localized area. Dermatographism or urticaria may be a sign of another internal illness. There are many such possibilities:
connective tissue disorders
systemic lupus erythematosus
Rheumatic fever
juvenile rheumatoid arthritis
endocrine disorders
hyperthyroidism
hypothyroidism
hyperparathyroidism
neoplastic disorders
lymphoma
leukemia
carcinoma (colorectal, lung, liver, ovarian)
necrotizing vasculitis
polymyositis
myeloma
Sjogren's syndrome
etc.
This list is broad and therefore, an individual should not panic and assume that a more serious underlying disease is responsible for the dermatographism or urticaria symptoms. However, it is a possibility that the skin condition may be an indication of some other health problem. A physician will assess the presence of an underlying health problem by by being aware of other symptoms for the various illnesses and performing diagnostic testing where required.
Stress as a Cause
Emotional stresses can be one of the dermographism causes. The effects can be direct or indirect and may act to make an individual more susceptible to possibly developing, aggravating or maintaining the presence of this skin condition. Basically, such stresses trigger the mechanism for histamine release.
For more information on stress causing dermatographism, please visit this page.
Hereditary Factors
Dermatographism or susceptibility to this skin problem can be passed on via the genetic route. In terms of frequency, this is one of the less common causes for dermatographism.

Other Dermatographism Causes



Having any type of surgery is suspected in causing dermatographism. Some information on this can be found here.
A variety of other dermatographism causes are described in posts submitted by dermatographism sufferers at this page.

Please be sure to visit the dermatographism causes survey page and the survey results page.
Do You Have A Question About Dermographism?
If you have a question about dermographism and would like that question answered by an actual sufferer of this skin hives condition, then please ask the question in the box below. Our resident dermatographism sufferer may not have all the answers, but he can pass along his experience in dealing with this skin problem which may help you in your battle with this skin condition.
Past Questions and Answers on Dermographism
Click below to see questions from other visitors to this page...

Other dermatographism information:
symptoms | dermatographism causes | diagnosis | treatments | pictures | dermographism diary | readers submissions | survey |  survey results
Visit this: Pictures of Rashes Page